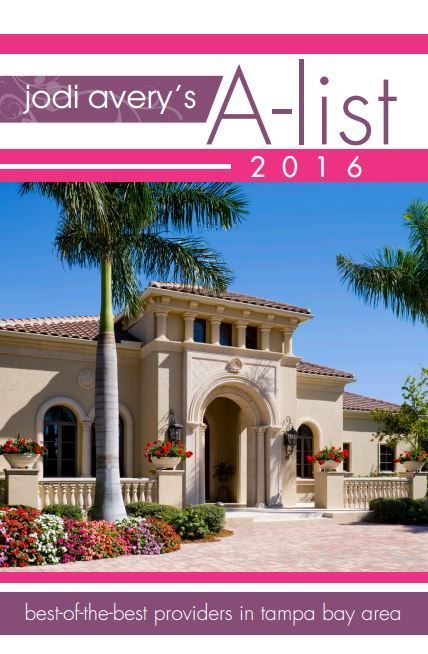 I am so excited to share the 2016 edition of Jodi's A-list with you.  I think this is my best referral book so far. It is 52 pages full of information for you and your family. What can you expect to find in this book? First of all, you will see a list of first-class service providers in Tampa Bay from accountants to pool services. These are businesses I personally endorse and refer to my friends and clients.

Plus, I have expanded the book to include "Jodi's top 30 things to do with her kids in Tampa Bay" and "Jodi's favorite restaurants in Tampa Bay." I wanted you to get to know me and my staff, so we answered some questions to help you get to know us better.  I also give you my step by step selling process. Plus, at the end of my book I give you a free gift with instant access to homes for sale and for rent.
I have been in the Real Estate business since 1993, and know there's nothing better than a great referral. This is the main reason, I have been producing Jodi's A-list for the past six years with my referrals. You never know when you may need a home inspectors, termite exterminators, roofers and plumbers and now they are all in one place, Jodi's A-list.
I take being a part of my A-list seriously and want you to know each person on my list, I have used in the past or have meet with personally.  When I recommend a vendor, I want them to give excellent service, be the best in their field, be honest, have integrity and really care about the client. I want the vendors I endorse to give my clients the same service I provide.
Jodi's A-list comes out once a year, but is updated regularly on my  Facebook and website. Last year, I printed 25,000 copies and I ran out of copies in a few short weeks. I promote Jodi's A-list whenever I get a chance on radio and television. What's exciting is, I started tracking my referrals and I found I give out about 50 a week. It is an honor to have so many wonderful people on Jodi's A-list. I am proud of the outstanding service they provide to my clients.
If you would like to get a FREE copy of  Jodi's A-list or know someone who should be featured in Jodi's A-list, email me your address at Jodi@JodiAvery.com  or call me at 727.238.9660.  I also have an e-Book version you can view at any time on my website by clicking here. Let's have another wonderful year of referrals!